$0 to $9.99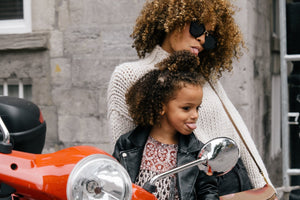 Gifts For Mom
The Perfect Gift for Mom
Are you trying to find a gift for a mom who has everything? Or maybe you're trying to find a gift for a fun mom, with a stand-up comedy sense of humor. Or, maybe she's just a worn-out mom who could use a good chuckle. Finding gift ideas for women, especially when it's your mother (and you have siblings to out-do), is a nearly impossible task. If she's Super-Mom, perhaps she's a tad short on patience at times and just needs to know that she's not alone.
It doesn't matter which type of mom you're purchasing a gift for, wishing "Happy Mother's Day" or "happy birthday, mom" with a cool and funky concept will be appreciated above all else.
 

Funny Parent Gifts specializes in humorous and unique gifts that will hit just the right quirky nerve for that special mom in your life.
Picture this:  It's Christmas morning and you're opening gifts. Dad got another tie. Junior got the latest video game. Grandpa got a new weed whacker. Or maybe it's Mother's Day and Mom has received yet another bouquet of flowers. Or maybe it's Mom's birthday and she has received mostly gift cards, because no one knows what she really needs or wants.
It's up to you to be stand out from the crowd to let Mom know how much you love her with a gift unlike any of the others. So, what does Mom get from you?
For daughters who want to let their moms know that they understand how stressful it has been raising them, how about a Drama Queen Daughter Dammit Doll? And for those who want to poke a little fun at the other family members while giving mom an extra chuckle, get the whole Dammit Doll family.
Whichever gift you decide to go with, if it's from

Funny Parent Gifts for Mom

, it's going to be a hit and Mom will love it. And you will feel proud of yourself for getting her something unique and thoughtful. (Plus, your siblings will be soooooo jealous.)
Whether the event is Mother's Day, Christmas, your anniversary, Valentine's Day, or her birthday, or just because the Super Mom in your life awesome and you want to reward her for her hard work and dedication, our humorous mom gifts will delight her and give her just the laugh she needs and will appreciate.
And if you can't decide? It we offer gift cards as well!
If there's one thing we can all agree on, it's that Mother's Day is all about showering Mom with love and gratitude. It's a day where the focus is on her as we indulge her and let her focus on her needs for a change. In that spirit, you want to get her something that is not only special that holds some real meaning, but also gives her a chuckle. Here are some gifts for Mom that you can get her for Mother's Day that will make a lasting impact and make her smile.
Mother's Day isn't just another "Hallmark holiday." It is a day to show your appreciation for the woman who raised you and supports you through the good times and the bad. This holiday is about so much more than flowers and candy. Here are four fun facts about Mother's Day that you can share with your loved ones this May. 
A Leo mom is fiery and adventurous and if you have one, you probably have a treasure trove of great stories to tell with her as the center of attention. When thinking of birthday gifts for her, keep in mind those most memorable moments. Whether it was living it up at karaoke night or shushing down the slopes, you have been there to witness her at her finest. Celebrate her fierceness and impress her with something from the heart. After all, moms cherish fond memories more than anything else and your birthday gift to her should be something special.
Like the song says, Christmas is the most wonderful time of the year. Getting together with the family and sharing good times around the tree is what Christmas is all about. Of course, there's also a lot of stress around the holidays. You want to make sure everything is just right. You want to make Mom and Dad happy by getting them gifts they'll genuinely enjoy and you want parents of little ones to get a chance to relax and enjoy the holidays. Unless you have the means to buy everyone a luxury sedan or an all expense paid trip to the Poconos, You're going to need a Christmas gift given from the heart rather than the wallet. The best gifts are the ones that bring a smile and don't leave you broke by the New Year.
Gift shopping can be quite tricky, especially when you're buying for parents who already have everything they need. Asking what they would like for their birthday or anniversary, or for input on Mother's Day ideas, totally destroys the element of surprise. Besides, if you do ask and get an answer, chances are that it won't be that helpful. You'll get something like, "Don't bring gifts, just come home," or "Call us more."
But you're not falling for any of that!
Here is a short guide to buying the perfect gift for your parents, whether Mother's Day or Father's Day is coming up, or a birthday, holiday, or anniversary, or you just want to be a good son, daughter, or spouse.
Why do Babies Get All the Gifts?
Sure, the new baby is all stocked up with everything that a newborn could possibly need, but what about Christmas presents for the new mom or dad? Diapers are always appreciated by parents, but they don't really last and babies don't treat them particularly well. The baby shower usually handles most of the baby's major needs, like car seats and cribs. What about making sure that this Christmas, parents with babies, either on the way or newly arrived, feel the love as well?
Don't Be That Person
When considering Christmas gift ideas, don't be that person who only thinks about the baby's needs. Or the friend who thinks that the loudest baby toys are the funniest baby toys. That death glare delivered by the new parent after they open your gift? That's real. They're not amused.
Make your gift to the new, happy parents stand out, be appreciated, and be remembered!
There are a whole host of crazy, heart-warming, stressful, and magical situations familiar to parents all across the world. If you're looking for Christmas gift ideas for stressed-out parents, you may be able to use some of these situations as a launching point. Find something to help them relax, brighten their day, give them a chuckle and some perspective, and make their Christmas less stressful and more special!
Being a parent is stressful enough. If you throw in all the gift-buying, food-making, and activity-attending that comes with the holiday season, you're just doubling down on all the insanity that is your life. On the bright side, we can help you to find some really funny gifts for parents if you need to shop for someone who has young kids. As the Christmas season approaches, or birthdays and baby showers pop up during the rest of the year, keep it light and add a little humor to brighten any parent's day.
Cell phones did not exist when I was growing up, and video games were in their infancy. When I remind my kids of this, in a vain attempt to encourage them to disconnect from the digital world, I'm usually met with snarky comments such as, "How did you alert each other of approaching dinosaurs? With smoke signals?" Or, "Did you manage to score a cabin with a private patio for your voyage on the Mayflower?"
The danger of raising kids in this digital age is the lack of connection to which parents and kids can fall victim. But a similar disconnect had happened to my daughter and me without any digital intervention, and I had not recognized it.