Giving the Perfect Funny Gift to Stressed-Out Parents
Giving the Perfect Funny Gift to Stressed-Out Parents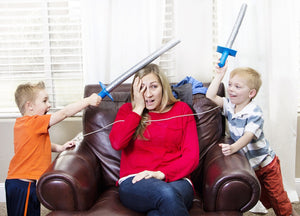 Being a parent is stressful enough. If you throw in all the gift-buying, food-making, and activity-attending that comes with the holiday season, you're just doubling down on all the insanity that is your life. On the bright side, we can help you to find some really funny gifts for parents if you need to shop for someone who has young kids. As the Christmas season approaches, or birthdays and baby showers pop up during the rest of the year, keep it light and add a little humor to brighten any parent's day.
Love - With a Side of Sleep Deprivation and Stress
When we become parents, we need humor to get us through, give us perspective, and help us find joy in the everyday, crazy situations we find ourselves in. Whether there's a toddler interrupting a bathroom break or an army of kids demanding time on the same computer, we know it's going to happen and that we have to deal with it with patience while keeping our snark in check. Even though we suffer from stress overload, we love our kids more than anything.
You can find a gift with a message that acknowledges the messy parts of parenthood such as the lack of sleep, the amount of diapers that need changing, or the superhuman effort needed to just get through the day. If you can find something along those lines that can make your gift recipient chuckle, you've got a winner.
The Gift
Check out these helpful gifts for parents. There are sleep masks (to help them ignore the little tykes) or Dammit Dolls (for venting frustration when they can't ignore them). These are gifts that will be equally appreciated by either parent. You might also be looking specifically for gifts for mom or gifts for dad, and in that case, you can be a little more personal and base the gift off of their unique parenting roles. We also carry products that can be personalized such as our personalized decanters, beer mugs, or wine glasses, or our "Mama Juice" or "Papa Juice" flask and shot glass gift sets.