Red Handie Totie Bagz for Wheelchair/Walker Users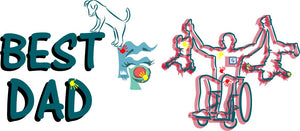 Red Handie Totie Bagz for Wheelchair/Walker Users
"Mobility accessory" doesn't have to equate to "functional but dull." You deserve a well-made wheelchair or walker bag with some pizzazz that reflects your unique, quirky side. Our witty Red Handed FPG Wheelchair and Walker Bags ensure that your personality and sense of humor get noticed.
Red Handed® Bag Features:
Sturdy, thick cotton canvas exterior with a zippered top.

Adjustable side release buckle straps on each side to attach to wheelchair or walker handles.

Vibrant red nylon lining that can be pulled out so that it's fully reversible for easy care. 




14" wide X 14" high

4" bag depth to provide ample storage capacity

3.6" diameter (11.25 circumference) interior water bottle sleeve to fit larger water bottles.

Loops at the bottom of both sides for attaching miscellaneous items or for looping our side-release buckle straps through to safely secure the bag to the wheelchair or walker.

Internal slash pocket for documents

Humorous, quirky artwork
Purchase your own FPG wheelchair/walker bag today!