4 Christmas Gift Ideas to Delight the Parents in Your Life
4 Christmas Gift Ideas to Delight the Parents in Your Life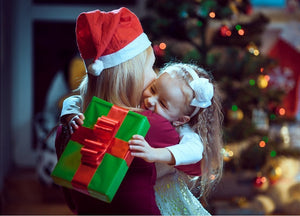 Like the song says, Christmas is the most wonderful time of the year. Getting together with the family and sharing good times around the tree is what Christmas is all about. Of course, there's also a lot of stress around the holidays. You want to make sure everything is just right. You want to make Mom and Dad happy by getting them gifts they'll genuinely enjoy and you want parents of little ones to get a chance to relax and enjoy the holidays. Unless you have the means to buy everyone a luxury sedan or an all expense paid trip to the Poconos, You're going to need a Christmas gift given from the heart rather than the wallet. The best gifts are the ones that bring a smile and don't leave you broke by the New Year.
Here are some fun Christmas gift ideas for the parents in your life:
1. Gift Cards
The song should actually say that Christmas is the most stressful time of the year, especially when you have no idea what to buy a picky parent or a parent who has everything they need. Maybe your dad is the silent type and doesn't let on what he wants for Christmas. Maybe your mom has her own tastes and style and your gifts never seem to quite hit the mark.
Gift cards are the perfect solution. Especially funny gift cards where they can pick out a gift that brings them a chuckle and fond memories.
2. Canvas Wrap Prints
Tastefully chosen framed artwork often has a subtle tone or hidden meaning. On the other end of the spectrum are canvas wrapped prints from Funny Parent Gifts with shockingly honest statements. For those parents with little ones running amok, who aren't quite at the tastefully chosen framed artwork stage of their lives, give them artwork to hang, a pillow, or a dish towel that says what they really feel. They'll put your funny gift up front and center in their living room or kitchen.
3. Personalized Cocktail Shaker
Any time you can get your parents a unique gift you can't find at the store, it's a good thing, but personalizing a gift is even better. Get them a cocktail shaker with a funny comment on it. Have it say something sweet or include a little inside-the-family joke. The point is, you're encouraging them to relax, have a good time, and forget about all the stress your teenage years caused them, and that's the greatest gift of all!
4. Get Them Something Fun
Do your parents need to lighten up? How about a board game? Or a smart-ass pillow? Show them there's more to life than decorative napkins. Try a present that's out in left field like a toy or game that everyone can enjoy.
Every parent would love a dammit doll that has been hand-crafted for stress relief or taking out one's anger at an overbearing boss or nagging coworker. These dolls don't mind one bit if the stressed out parent in your life uses them to let out some steam and punish them until their stuffing comes loose. Your stressed out loved one will thank you later once they realize how satisfying it is to use their dammit doll like a tiny punching bag.
Granted, just being together for the holidays is the most important thing. But there are also presents! Making that extra effort to find something truly unique and funny for your parents can be just the thing that pushes a lovely Christmas into being an awesome Christmas. Shop online at Funny Parent Gifts for heartfelt, humorous, and affordable presents that can be shipped straight to anyone in your life in need of a good laugh.