20 Hilarious and Meaningful Gifts for Both Parents
20 Hilarious and Meaningful Gifts for Both Parents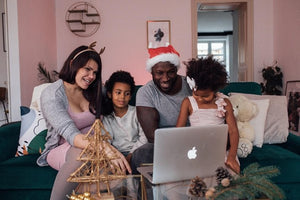 As a parent of young children, you deserve a special gift for every occasion. On Christmas you deserve something you really want, and on Mother's Day or Father's Day, you definitely deserve something that'll help you kick back and relax! And seeing as the kids are still young, you can't exactly send them out to the shop by themselves, so let's help point them in the right direction with some great online gift ideas. Whether you're looking for gifts for Mom or gifts for Dad, here is our top selection of 20 hilarious gifts for either parent.
"Go Ask Your Dad," "Go Ask Your Mom" Sleep Masks
As a parenting couple, you've got a lot of joint decisions to make together. However, sometimes you just want your partner to deal with it all, because you need a break! So, why not get you and your significant other some sleep masks that respond for you? That way you don't even need to open your eyes to fend off the kids' incessant questions! Super soft and glittery, these sleep masks aren't only funny, but they're a little touch of luxury as well. They even come with gel inserts that can be heated or cooled for some extra self-care!
Available from only $24.50:

Buy it here
18 Inch Square Throw Pillows - Off-Beat Animal Humor Style
Love animals with attitude? Love lounging in style? Combine both here and invest in some linen throw pillows with some off-beat animal humour. 18 inches square - this is a great gift for anyone with a sense of humor and the universal need for more soft furnishings around the house. And hey, who doesn't need a little cartoon T-Rex to lounge against as it tells you how much it loves you with its tiny arms? And if for some reason your partner doesn't like dinosaurs, there are 7 other designs to choose from, including a swearing penguin and a stork that reminds you exactly what you signed up for!
Funny Parent Gifts Gift Card
Is your significant other full of wit and charm but hard to buy for? Maybe your co-parent already has everything they need? Maybe the kids want to get Mommy or Daddy something extra special, funny, and meaningful this year for their birthday? Well, why not get them a gift card that will allow them to shop for whatever takes their fancy via our store? A gift card is a lot more personal than just handing them a wad of cash, and you give them the bonus gift of being able to choose an item they actually like.
Watch Ya' Mouth Game
Need a fun thing to do as a family? Don't worry, we've got you covered. Get the kids and your partner together in one room, break out the cards and the mouthguards, and break up into teams. The goal of the game is to guess what each team member is saying when they're wearing the mouthguard, and let's not forget just how much your usually stoic and quiet partner can dribble when they're trying to pronounce an 'M' - this game is a laugh a minute, no matter how old you are! Keep drool cloths on hand…
Personalized 20oz Stainless Steel Cocktail Shaker
Want to be Bond for the night? One of the best gifts for Mom or Dad we have right now, having your very own personalized cocktail shaker, is a great way to liven up the evening or really get a small dinner party going. Now you can serve up all kinds of delicious concoctions, even for your neighbor, who only drinks virgin cocktails (and who you never know what to serve when they RSVP...). And seeing as you can personalize a message on the front, well, what are you waiting for? This is perfect for treating that special man or lady in your life!
PlayableART Coaster Cube Coaster Set
You love your kids, of course, but you're not the biggest fan of how much they fidget in every single situation. At the same time, you know it's not their fault! You remember just how boring dinner times and visiting relatives could be when you were their age, and you can sympathize. So, for Christmas or a birthday this year, why not invest in a coaster set you can build things out of? The kids will love having something to do when your neighbor has popped round for a chat, and you might even want to join in after a while!
Pardon The Mess, My Children Are Making Memories - Throw Pillows
We all know just how messy kids can get, and we're all in for a big shock when we discover that our patent pending just-push-it-under-the-couch storage system is starting to fail. As such, we need to prepare a good excuse when someone pops round unexpectedly, whether they be your best friend or your mother-in-law. When these moments strike, we've prepared a throw pillow that's perfect for explaining the state of the house. And you can get these pillows in any number of sizes, for small couches and big beds alike; gift your partner the best possible thing this year: A reminder to relax and enjoy the parenting journey. The house will be cleaned… eventually.
Available from $24.88: Buy it here
Pardon The Mess, My Children Are Making Memories - Canvas Wrap Prints
Maybe throw pillows aren't quite you or your partner's thing? Maybe you'd quite like a proper canvas to hang up on the wall somewhere? Well, we've got the perfect thing for you: the same excuse for the house being messy but now etched into a frame you can hang up anywhere you like out of reach of little hands.
Available from $25.88: Buy it here
Pardon The Mess, My Children Are Making Memories - Tea/Dish Towel
Do you spend a lot of time in the kitchen? Of course you do, you're a parent! You've got so much cooking to do, and a lot of items to throw out of the fridge at the same time, and who knows when those leftovers were put in there? And maybe you also think a throw pillow or a canvas wrap is going a bit too far? Well we've got another option for you: Get the message on a tea towel instead! Great for those moments when the kitchen surfaces look like a bomb's hit and you're going to need at least 30 minutes to corral the kids in to help.
Too Kool For Skool Son Dammit Doll
One of the best gag gifts in our collection, this doll is a reminder of everything you've got to look forward to as your son grows up. Whenever he leaves the clothes all over the floor, or forgets to do his homework, or breaks something and refuses to admit it's him, or the school calls regarding an "incident" your son was involved in, you and/or your partner can take this doll in hand and let out the stress. If there's a Father's Day or Mother's Day coming up, this could be the perfect gift for shining a light on the reality of being a parent, especially if your son is just getting to the difficult pre-teen stage.
Personalized Gunmetal Beer Growler Set with Two Matching Beer Steins
What's a growler, you might ask? Well, it's a bottle that's handy for transporting beer to and fro. If you're someone who likes to down a pint when you're at the dinner table or bring the beer to share when you're with friends, having a proper, dedicated bottle made for taking your beer wherever you go can ensure that you lighten the mood at every get-together or parent gaggle event you're invited to. You'll also have two matching beer steins for pouring one out no matter where you are. And that gunmetal tone is such a pleasing color - your partner will love unwrapping this set at Christmas time. Personalize the whole set with a special message!
Personalized 25oz Beer Mug
How much do you and/or your partner enjoy a tall, cool, frosty mug of your favorite beer? As parents of young kids, it's nice to relax after they've gone to bed and have a bit of time for the two of you. Or have your own personalized mug while you watch the game with your buddies. Getting your partner a personalized 25oz beer mug is a great way to remind them that they are loved and deserve some down time.
Drama Queen Daughter Dammit Doll
You love your daughter. She's your little angel or princess, even if she throws some sound barrier breaking tantrums sometimes… And think about all you've got to look forward to when she grows up! She'll get more expensive and potentially a bit moodier, so why not get yourself prepared for this stage in her life and get a Drama Queen Daughter Dammit Doll for yourself or your partner as a stress relieving gift? One day you can even sit her down and give it over to her when she has her own little princess, and tell her funny stories about how useful it was as a frustration outlet when she was being her most difficult. It's a limited edition doll, so get it while it lasts!
Set Of Five 25oz Personalized Beer Mugs
Every Dad loves to be able to kick back with a beer on Father's Day, so why not get the man in your life a set of personalized beer mugs to celebrate with this year? He can invite his buddies over, and instead of making a mess of your glasses, they've got their own set to leave scattered about the man cave when the game is over. Or maybe your partner is having a big blow out on his birthday this year? This is a great gift for getting the party going, especially if the boys have their own embarrassing nicknames to be reminded of!
Available for $134.99: Buy it here
Chalkboard Decanter in Wood Crate with Two Personalized Stemless Wine Glasses
This decanter is a pretty unique one. No matter what you pour into it, you can use the erasable chalkboard to let everyone know what special concoction you're serving. The glasses can be permanently personalized with a message of your choice: Maybe a lovely passage about peace and love? Or maybe just a reminder to wash the glasses before they go back in the cupboard? Whether it's Mother's Day or Father's Day, this is clearly a good choice, and will certainly set the tone for the occasion!
Personalized Custom Engraved 19oz White Wine Glass
A popular gift for all occasions, getting an engraved white wine glass is a great way to let everyone know that this is Mom's glass and she's special. This is a great gift for Mother's Day, an anniversary or birthday, or Christmas time! A personalized white wine glass will make your partner feel graceful and elegant and important, even if they're starting to slur their words a little… and the little engraved message can be just as romantic or wickedly funny as you want it to be.
Bormioli Rocco Selecta Square Decanter with Stopper and Set of 2 Low Ball Personalized Glasses
Are you living with a significant other who loves a tipple in the evening? Maybe it's time to make their dreams come true this Christmas and gift them a worthy decanter set to show off. Made in Italy, you can personalize the glasses with a loving or witty message of your own, while you both sip your favorite liquor from a set that makes your partner's love for the sophisticated lifestyle clear for all to see.
Bormioli Rocco Loto Wine Decanter With Stopper And 2 Personalized Stemless Wine Glass Set
Another Bormiolo Rocco set, this is a great gift to keep for the ages. Be sure to buy your parent-in-crime a decanter for a big occasion like their birthday or Christmas. After years of raising the kids, this could become a permanently unstoppered addition to the wine cabinet! Did we mention you can also personalize the glasses in the set with a little message of your own? Go with the 'Made in Italy' sophistication and have something meaningful etched into the glasses or personalize them with an inside joke that only your partner will get - it's your choice!
Personalized Leatherette Wine Totes
Now this gift is a great one for Mother's Day! Not only does it help Mom to cart her wine about when she's with her friends, but it's also a lovely way to show a bit of love to your significant other with a keepsake. After all, you can personalize the tote you purchase with a little message just for them, emblazoned forever on suede leatherette that'll last for years to come. Available in three different colors: blue, black, and tan, you can tell your partner exactly how you feel about them or make them look at a corny joke and think of you every time they use it!
Available for only $28.99: Buy it here
Personalized 60oz Glass Pitcher
And finally, when it comes to finding excellent gifts for mom or dad, this is one of the best presents in our collection! Made of heavy-duty glass, with the ability to have 3 lines of personalized text emblazoned onto the pitcher's body, this is a great shout out for the man or woman in your life. So, whether you want to grab something a bit fun for Christmas, or you want to make Mother's Day or Father's Day extra super special this year, a personalized 60oz pitcher is perfect for packing pints of Guinness away during a boy's night, for margaritas for a girl's night, or for pouring out some homemade lemonade during a summer family BBQ.
Available for only $38.99: Buy it here