7 Funny Valentine's Day Gift Ideas to Humor Your S.O.
7 Funny Valentine's Day Gift Ideas to Humor Your S.O.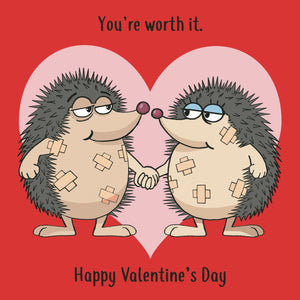 At Funny Parent Gifts, we have the perfect unique gift for your loved one that will be sure to make them laugh out loud and bring joy to Valentine's Day.
1) If one of the things that you love about your partner is their dry but twisted sense of humor, our tongue-in-cheek throw pillows should capture the spirit of their wit perfectly. From our "I Love You This Much" T-Rex with his tiny little arms, to our dinosaur, stuck in a tar pit while insisting "The Important Thing is that I Believe in Myself," one of these pillows is bound to elicit a sophisticated chuckle or two.
2) We have several options for helping you to remind your wife that not only is she a Trophy Wife, she's also a Trophy Mom:
3) If Covid stress is ruining your sweetie-pie's sweet side, whacking the stuffing out of one of our Pandemic Dammit Dolls provides a much-needed outlet.
4) Speaking of stress, how about pampering the mom in your life with a jar of our proprietary blend of "Go Away, Punkin, Mommy Needs a Break – Chocolate, Wine, Strawberry, and Roses Bouquet" loose-leaf tea? Alcohol-free but with a wine vibe, give mom the rejuvenation that she deserves. Shipped in a beautiful large 17 oz, blue-topped, Bormioli Rocco jar made in Italy.
5) Help the beauty in your life get her beauty rest with one of our gorgeous sleep masks:
6) What man wouldn't love a set of Bruce Lee playing cards to add some extra manliness to Poker Night? Included in this commemorative deck are 52 Bruce Lee quotes, one on each card, packaged inside a satin-finish tuck box and sealed with the Jeet Kune Do emblem.
7) Personalize it!
At Funny Parent Gifts, we have something for everyone, including husbands, wives, parents, new moms and dads, dog and cat moms and dads, grandparents, and kids. Come check us out and purchase the perfect gift to delight your loved one just in time for Valentine's Day!