17 Funny Gifts for Grandfathers with a Wicked Sense of Humor
17 Funny Gifts for Grandfathers with a Wicked Sense of Humor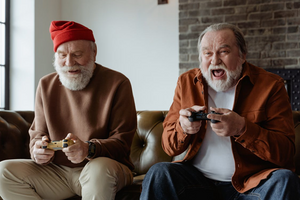 As those looking to pick up a wealth of awesome Christmas gifts, it's very easy to overthink things. After all, you want to get it right, and to bring joy to those you love.
That said, sometimes the most light-hearted gifts are also the most heartfelt. These items can provide a fun smile, a belly laugh, and a warm memory that we can all share.
A lovely gift can be a great pre-requisite for establishing these types of memories.
Below are 17 funny gifts you may wish to buy for your awesome Grandfather, who can see the value in a little silliness from time to time. As the great Roald Dahl once said - 'A little nonsense now and then, is cherished by the wisest men.'
A great gift from this list will reward your grandfather for being such a positive force in your life, and having that carefree, off-color humor which reminds you that age is just a number, always.
No matter if your gift is intended for a birthday, Father's Day, Christmas, or all of these. With that in mind, let's begin!
Sometimes, a Grandparent just has to remind the family that they were the originators, the 'original cool' of this family unit, as it were.
With 100% brushed cotton and printing performed in the USA, this is a high-quality cap with a vivid logo and funny sentiment. It's also a great way of showing your grandfather that no matter what, he'll always be cool to you.
A gift of this size can also make an unique stocking stuffer, so there's that benefit too.
This gift is a fantastic blend (pun intended) of a classy gift that can be made into a humorous statement thanks to the addition of its engraving potential.
A fun word, a statement, an in-joke that only the two of you could get, this could a great means of poking light fun or celebrating your grandfather in the best way.
This is far from a gimmick, however. The Bormioli Rocco brand is known for holding liquor in style.
Bruce Lee was so cool that he literally fused Kung-Fu, Wing-Chun and his own martial arts expertise to develop a style that  not only looked awesome on cinema, but cemented him as one of the greatest martial arts legends of all time.
You'd be hard-pressed to find a grandfather around today who doesn't have some kind of reverence for the fighting master. Sometimes, you need an icon like that to inspire you to hold that poker face.
Purchasing these playing cards can remind your grandparent to "Absorb what is useful, discard what is not, add what is uniquely your own." – Bruce Lee
Sometimes, you just need to sit down, enjoy a cool beverage, and soak in the world around you.
This is especially true of those who enjoy fishing, hiking, or even just committing to gardening work at home.
A  gift like this inspire your grandfather to whip up a batch of his famous backyard barbequed burgers, while having a cool beer or snacks at hand to help him keep his energy up for the task.
It takes a smart person to keep their head warm, especially in winter. And especially if they don't have as much hair as they used to. Besides, grandfathers love to show off their big brains.
The hand knitted brain hat has taken this design quite literally, with a fun design that also serves as a super comfortable head warmer. Think of this beanie as in the same spirit as those huge monster-claw slippers you've been wearing for the last year. When it comes to needing that pure, indulgent comfort, you'd choose nothing else.
Note: this brain hat/beanie hasn't been confirmed to raise IQ, but there's no proof to the contrary, either.
Sure, our Grandparents might like to continually tell us that 'music was so much better back then' or 'the festivals were crazier back then,' and 'you youngsters are missing out today.'
They're right though, aren't they? Sure, it could be said we're in a golden age of music with everything at the touch of our fingers, but imagine seeing Queen or Pink Floyd back in the day, or a range of other bands that made showmanship a core of their presence.
Okay, Grandad, we'll give you this one. Here's an awesome mug you can use to commemorate your bragging rights.
What's that? A mug isn't enough? Well, that's understandable. If you saw some of the amazing acts that were around back tjen, you'd probably say the same.
For this reason, replicating that sentiment with a gift of an impressive t-shirt for your grandfather can be nice, and with the long-sleeved, classic crew neck design, it will look great on him, too.
If short sleeves are preferred by your grandfather, there's no reason to limit them to the prior option.
Perhaps you could get all three options for your grandparent on those days that he's feeling particularly boastful.
With super-soft superior quality and a lightweight Tultex 241 poly-rich makeup, you can be certain that this is a comfortable and worthwhile piece of apparel to wear, not only a tongue-in-cheek joke.
Any distinguished gentleman who has managed to make it to his twilight years with a loving family around him could, lovingly, be named one of these.
With the excellent LB Co. Lip Balm for Dads or Grandfathers, they can not only keep up with their skincare and lip care during the cold months or oppressive heat of the summer, but also support a Minnesotan business in the process.
This lip balm formula is totally organic, and comes in a tube or a sliding tin that harks back to the gorgeous masculine sundries design of the Old West. A great addition to any suit pocket.
Tired from working in the garage? Have you been gardening for some time and now you need that zesty refresher? It might just be that you need some "Papa Juice" to keep you going.
Gifting your grandfather an excellent matte black flash and shot glass can put a quick pep in his step, help him keep a nice treat around, and also, enjoy an item engraved and personalized for the greatest man of all.
Not only does this serve as a nice novelty gift, but a useful product that can be kept for the times he needs it most. Trust us, it's sure to be a hit.
If you've noticed that your grandpa has fallen into a rourtine of reaching for his favorite beer, or a liquor that he's enjoyed since the 70s, it might be time for him to change things up a little.
A cocktail is more than just a drink, it's a fun concoction that can take a little finesse to get right. In other words, it's a good way to help your relative increase the artisan nature of finding the best flavors. With this awesome 20-ounce mixing shaker, he'll be trying to impress you in no time.
A great beer mug will be used for decades. Care and attention put into the glassware, and a hilarious personalized engraving, will ensure that your relative will want to keep this piece around. Every time your grandparent wishes to enjoy a weekend drink, they can do so and think of you.
That said, the huge 25oz volume of this mug makes it a perfect companion for a grandfather who is a beer aficionado. With a smart, witty engraving, grandpa can watch the game with his buddies in style.
Grilling and barbecue is more than just an enjoyable way to cook food on a summer's day. Ask any grill master and he'll tell you that it is an art, a tactical science perhaps.
Why not use an excellent camouflage barbecue/grilling apron with lots of added bells and whistles, to achieve the best effect as far as that's concerned? You never know when tactical action stealth and the appropriate tools within reach, might come into play to defend your smoked brisket or sausages.
This apron can also be personalized so that the name of your grandparent or his budding title of 'Supreme Grillmaster' can be properly applied. Grilling is a serious business, so please don't assume any humor in our writing here. When you need to grill, you need to grill.
There's something poetic about gifting an old man growler with a beer growler. Especially one that has as nice a finish as this gunmetal variety. With two excellent steins and personalized options for every piece, this set provides a touch of masculine class to your gift, while also allowing you to add a funny or heartfelt message to each stein.
Perhaps you could add a funny statement such as 'Grandfather's secret sauce' or 'Old man pep juice' as a tongue-in-cheek poke. Whatever works for you, you can be sure that the practicality of such a gift will be appreciated.
Sure, two steins are nice, but what about five personalized beer mugs for the whole clan? If your grandfather regularly invites his friends around, enjoys having you over for the sports game, or just loves to store well-crafted glassware in his home bar, you can bet that these will go down a treat.
Maybe your grandpa enjoys spending time with his friends for a bi-monthly poker game, or has his own brew fermenting away in his garage, ready to bottle and serve in beautiful glasses. He'll be proud of serving such a brew in the gift you've purchased for him.
Sure, beer steins are nice, but it's also nice to enjoy the gorgeous grapes and winemaking expertise of the most vintage brands from time to time. There's class in it.
A wine growler and glasses set can be a perfect gift for your grandfather. It could add to a nice romantic evening, the means to enjoy a fancy meal with his sweetheart, or even a place from which to pour aerated vintage wines rather than from a dusty old bottle.
Wheelchair/walker bags are considered incredibly useful by the elderly who may need a little more mobility support and associated storage to get around safely and comfortably with their necessary belongings in tow. But there's no reason why traversing the outside world can't be done with humor and style.
Our Red Handie Totie Bags® feature:
Sturdy, thick cotton canvas exterior with a zippered top.

Adjustable side release buckle straps on each side to attach to wheelchair or walker handles.

Combine buckle straps to form one large handle for easy carrying.

The bag can either hang on the back of your wheelchair or it is flat and wide enough that it could fit comfortably directly behind your back between you and the wheelchair.

Vibrant red nylon lining that can be pulled out so that it's fully reversible for easy care. 

14" wide X 14" high

4" bag depth to provide ample storage capacity

3.6" diameter (11.25 circumference) interior water bottle sleeve to fit larger water bottles.

Loops at the bottom of both sides for attaching miscellaneous items or for looping our side-release buckle straps through to safely secure the bag to the wheelchair or walker.

Internal slash pocket for documents

Humorous, quirky artwork
We'd recommend some of these designs for your awesome grandfather. He'll be sure to repay the favor.
That prior 'because I'm cool owl' logo listed above can also be placed upon a lovely tote bag. This can be easily placed at the back of a wheelchair or front of a walker to make sure that everyone 'on the block' knows not to mess with your grandparent no matter where they go.
There's nothing wrong with being patriotic, but it's true that the artwork involved with that kind of thought can be quite uniform from time to time. Luckily, this awesome eagle design is unique and visually arresting, showcasing that you can still look 'fly' even with the most traditional symbol of the wonderful United States.
Does your grandfather act like he's the hottest, hippest, "I don't give a damn" dude in town? Well, that's cool. After all, age is just a mindset, and somehow people who know they're cool end up being so at any age. What could celebrate that more than a tote bag with a self-assured ostrich gracing the artwork of its exterior?
Need we say more?
Young people flex their knowledge all the time. Why can't our grandparents? While culture has changed significantly since your grandfather's youth, it's true to say that some elements of culture have not and simply cannot be replicated or improved upon. If your grandfather is pretty gung-ho about talking about the greatness of all the bands they were into, and how much modern music can't compare, he's sure to adore this design.
Just in case anyone was wondering if he's still got it goin' on.
Just a reminder to not make assumptions about the reasons why your grandfather needs some extra assistance to get up and about.
For the grandfather who knows he's the best but doesn't like to brag, or the pop pop who knows that he's the top top but likes to keep it real, give him this bag to remind him that his progeny are aware and grateful.
Check out our other products today!
While these hilarious products, perfectly tailored to grandfathers, make for the perfect year-round gifts, Funny Parent Gifts hold a whole range of humorous, high quality, ethically sourced items for the entire family that are worth browsing. At the very least, you'll get a good chuckle!
What are you waiting for? Check out our products today!