Celebrating Christmas with Your Kids the Fun (and Funny) Way
Celebrating Christmas with Your Kids the Fun (and Funny) Way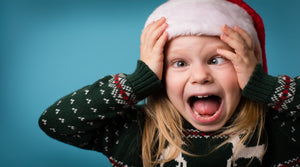 Christmas is right around the corner, meaning it's time to start thinking about Christmas presents for the kids! Whether you're an Ebenezer Scrooge in need of some holiday cheer or a modern-day Buddy the Elf (we won't judge you for eating spaghetti and syrup this holiday season), there's nothing quite like the feeling of giving a gift that is appreciated and adored. Now, you might be thinking, giving yourself a tropical vacation, new LED TV, or time to hibernate this winter sounds simply heavenly. A well rested, happy parents is the best gift of all, amiright? Absolutely! As long as you indulge the little ones as well, and throw in some giggles for good measure.
How to Crush Christmas as a Parent
It can be hard to contain your inner-kid while shopping for your children (how can you be expected to pass up on the latest kids' fashion trend or gaming gadget?), but try and stay focused and embrace the Christmas spirit by giving your kids something that they'll have a blast with while making them laugh. From Dammit Dolls to games such as Watch Ya' Mouth or Pie to the Face, Funny Parent Gifts has a wide variety of Christmas gifts that will have the whole family feeling the holiday cheer! 
Christmas Gift Ideas for Your Little Ones
What better way to keep your baby from crying on Christmas day than with our Buck Teeth Billy Bob pacifier? Not only will your child enjoy this non-toxic, eco-friendly pacifier, but you and your SO will get a kick out of seeing your baby with front-teeth chompers that remind you of some of your SO's relatives. If your child is a big Harry Potter fan, our Ministry of Magic toilet seat sticker will surely be a big hit. Don't blame us if you're child ends up trying to travel to the wizarding world via your toilet!
How about a funny t-shirt that reminds dad of his priorities and how lucky he is to be a dad? Better yet, if you're a Game of Thrones fan, get your child a t-shirt that will let the world know that you're the leader of the pack with your little dire wolf in tow.
Christmas is the perfect time to give funny gifts that even the biggest Grinches can't ignore. Shop Funny Parent Gifts to find hilarious presents for the kiddos, without the hefty price tag.