4 Gifts Funny Daughters Can Give to Their Funny Dads for Father's Day
4 Gifts Funny Daughters Can Give to Their Funny Dads for Father's Day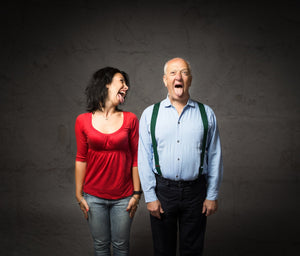 Let's face it, your dad is hard to buy presents for. Fortunately, he has a unique sense of humor that you were lucky enough to inherit. At Funny Parent Gifts, you will find the perfect gift that will make both of you laugh while strengthening your funny-bone bond.
To help guide you in your search, and make it clear that you're dad's favorite because you're the one who truly "gets" him, 

here are some suggestions.
Graphic T-Shirts
If your dad is the type of guy who likes to display his quirky sense of humor with a ridiculously hilarious shirt, then a super soft, constantly laundered (because it will become his favorite) graphic tee will be the perfect gift for him. Find something that highlights your dad's funny side while letting the world know that he's the Best Dad and has only gotten cooler with age.
Personalized Items
The thought of getting your dad a personalized item might make you think you're getting too sentimental, but personalized items can be funny as well. Does your father always tell the same "dad joke?"  Does he have a one-liner inside joke that only his friends and family get? It's time to put that on a flask, leatherette wine tote, red or white wine glass, or beer mugs with a matching growler. Let him know that you're listening, and you appreciate his off-beat sense of humor.
Dad Stress Relief
If you really want to let your dad know that you understand how stressful it has been raising you, get him a Drama Queen Daughter Dammit Doll. And if you want to poke a little fun at the other family members while giving your dad an extra chuckle, get the whole Dammit Doll family.
Useful Items with a Twist
Get for your dad something useful that will remind him of you every time he uses it, such as a personalized barbecue apron with matching cooler that dubs as a seat for his fishing trips. Or a handy "Best Dad" tote bag. For something that can be used daily, how about some Lucky Bastard lip balm? Because let's be honest. With a daughter like you, he really is one lucky bastard.
If you are looking for the perfect, most unique and funny Father's Day gift for your dad for Father's Day, make sure that you check out Funny Parent Gifts today!