Decor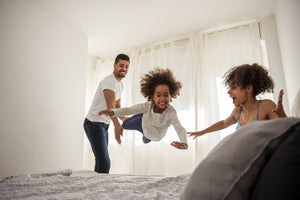 Gifts For Parents
The Perfect Gift for Both Parents
It's hard enough finding the right gift for one parent but for those occasions where you have to purchase a gift that fits both parents? You might as well attempt to solve world peace while you're at it.
Not to worry! At Funny Parent Gifts, we've got your back. There are many things that parents have in common: Sleep deprivation, high stress, love-filled moments to be celebrated, sleep deprivation…
Did we mention sleep deprivation?
Help the super-parents in your life recoup with some 'us-time' to help them remember why they started the parenting journey in the first place, and how many people they have in their corner who care about them. Our assortment of funny gifts for parents will surely be a hit for the whole family to laugh over.
How about a personalized gift with a sentiment of your choosing? Feel free to use one of our ideas or craft one of your own:
"Sour grapes make bad whine"

"Wine a bit. You'll feel better."

"Peace, love, & liquid sunshine"

"Carpe Vinum - Wine Diva"

"Nunc Est Bibendum"  (Now we must drink.)

"In Vino Veritas"  (In wine there is truth.)

"Aqua Vitae (Water of Life)"
(Thank you, Latin.)
We offer personalized beer mugs, jugs, and gunmetal growlers with matching beer steins, white or red wine glasses and decanters, pitchers, and leatherette wine totes. Whether you're shopping for mother's day gifts or father's day gifts, Funny Parent Gifts has some of the best gifts for parents that are sure to resonate strongly with them. After all, they're your parents! 
To add to the stressed out parent's décor, we offer our tongue-in-cheek "Pardon the Mess. Our Children are Making Memories" sentiment on a throw pillow, dish towel, or canvas wrap print.
To help that power nap really count, our "Go Ask Your Mom" and "Go Ask Your Dad" sleep masks make it clear that power naps are not to be disturbed. Unless there is blood. Or smoke. Or a cop pounding at the door.
Speaking of troublesome teenagers, our Too Kool for Skool Son Dammit Doll or Drama Queen Daughter Dammit Doll might just be the ticket to safely venting some parental frustration. They make the perfect Christmas stocking stuffer!