$0 to $9.99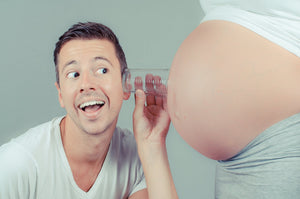 Gifts For New Dads
The Perfect Gifts for New Dads
Which is the Favorite? Mom or Dad?
| | | |
| --- | --- | --- |
| Mother | Father | Child's Verdict |
| Carried the child for nine long months before enduring the pain of childbirth. | Had sex. | DADDY is the BEST! |
| Carefully considers children's well-being and safety. | Can throw the baby, like, 10 feet in the air! | DA-DDY! DA-DDY! |
| Spent 45 minutes last night carefully supervising homework and repeatedly explaining the concept of fractions. | Spent four minutes last night singing "Let It Go" in a hilarious voice at the top of his lungs. | It's Daddy! |
| Lovingly plans and crafts healthy meals made of organic ingredients. | Invented the ice cream dinner. | I mean, just give up at this point. It's Dad all the way. |
| Provides unconditional love. | Provides unconditional love AND makes fart noises on command. | Did somebody say DADDY? |
Welcome to the wonderful adventure of fatherhood! You will be forever worshiped by your new little partner in crime.
Make sure that the world knows that you are the Man Behind the Bump and you deserve some new dad pampering too with a new mug, tote bag, long-sleeved, or short-sleeved pocket shirt. If you are more of a Baby Daddy kind of guy, our magnum-sized sperm whale graphic on a tote bag, mug, short-sleeved, or long-sleeved shirt, will make it clear whose boys can swim. (You da man!)
After the baby comes, carry our Walking Dad, Zombie Dad tote to help explain that constant 5 o'clock shadow and pale, sleep-deprived skin tone. You're about to become the family pack mule so a new tote is the perfect gift for new dad like you. If you don't think that you need a
tote

(which would be ridiculous, by the way - everybody needs a tote), you can still explain the bags under your eyes by wearing one of our funny new dad gifts including Walking Dad, Zombie Dad pocket t-shirts with either short or long-sleeves, or by downing a constant stream of coffee from our Walking Dad, Zombie Dad mug. We suggest the larger size.
In your exhausted state, you probably won't need too much help falling asleep, but a "Go Ask Your Mom" sleep mask will help to ensure that your naps remain uninterrupted.
So, yippee-ki-yay, cowboy! The journey will be tiresome, beautiful, a total blast, and one hell-uv-a kick-butt adventure.
Congrats and go get 'em!